It's almost Black Friday, but your Holiday Marketing doesn't end there does it? Our last few posts talked about how to use Text Marketing to ramp up your list and sales for the Holidays.
Now, we are going to share how to carry that throughout the Holidays in order to set you up for sales explosions during 1st quarter. In these uncertain times, you need to use every single tool at your disposal. So if you haven't jumped aboard the Text Marketing train, you need to do so ASAP.
We have created an ENTIRE campaign you can start on Dec 12, 2020 or even sooner. Promote this in all of your social media and digital assets to drive new subscribers. Pre-promote the "12 days to Christmas" Promotion with hints and teasers that customers will miss out if they are only depending on email and social media to get deals. Impose on your audience that will they need to get signed up for your VIP Text Club to get offers ON DEMAND when they go live. We have give you specific promotional ideas that can be used for any type of businesses trying to promote Holiday sales and offers.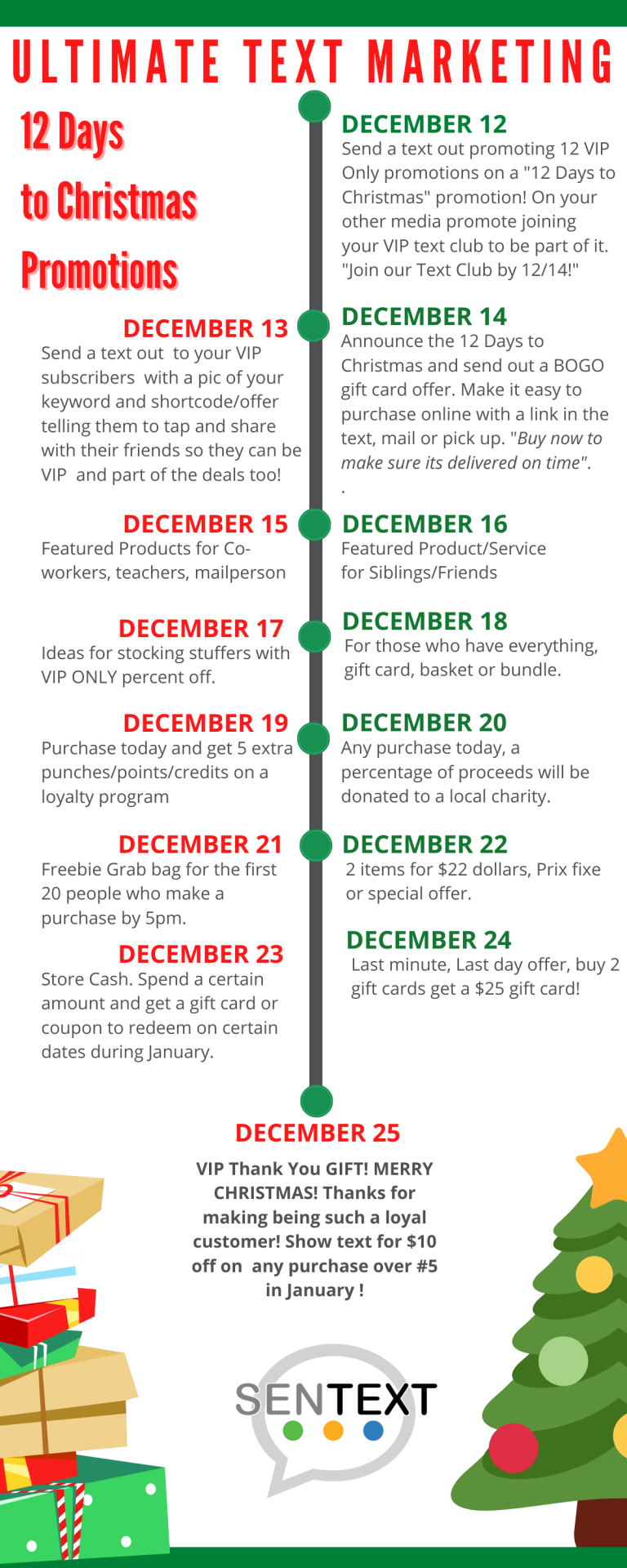 This could be critical for pivoting businesses who may be experiencing shutdowns and restrictions based on the current Covid Pandemic throughout the US, More people will be spending dollars and time this year more than any other due to these exact circumstances. You need your business literally where their eyeballs are. On their mobile devices.
There is something incredibly magical as a business owner, to have the ability to softly whisper to your audience no matter what website or social media they are viewing. A text notifications appears on the screen of their device at the most appropriate time , while they likely thinking of gifting ideas.
Additionally, as a bonus, you can click on the button below to add our 2021 SenText Ultimate Text Marketing Calendar to your google or phone calendar. You will be able to see all of the upcoming National months and holidays allowing you to save time and have more ideas for marketing thought out the year. We hope you love it whether you are a new or next customer. If you are not text marketing, please reach out to your local Independent SenText Agent if you have one, or request more info below about pricing.