Is your business only using email and social media to reach your audience?
Even if you are highly successful and can show conversions as a business owner or yes, even a social media manager, you can use Text Marketing to greatly optimize your social media efforts and results.
In the past 10 plus years, Facebook has allowed businesses to post ads. Even if you have 1000's of fans there is truly no way to reach 99% of them consistently as ads run with a complicated algorithm. Basically this is true with any social media app, and that is why text message marketing dominates, in this sense. If you have 1000 fans on Facebook, you might reach 2% (20 fans) of them organically over a few days time. If you have 1000 text subscribers you reach 99% (990 fans), according to FORBES.
This post is not to say which you should choose, but how to use them together.
Once you become affiliated with a text message marketing platform, you will have a call to action attached to a designated keyword and and a shortcode. A shortcode is a 5 digit code similar to an area code that people text your keyword to, and are subscribed to your database. They can either opt in from an online form (with compliant legalese for TCPA and CTIA requirements) or they can simply text in from their mobile device on their regular phone texting app. There is no download or storage space required. This is why consumers find text alerts easier, and more convenient to keep up with their favorite businesses. According to techjury, SMS messages have a 209% higher response rate than phone, email, or Facebook.
"In 2019, there were 7.9 billion mobile subscriptions worldwide" -Ericsson
Here are a few examples of how you can first gather subscribers using your social media audience. Recently, Vintage Leopard, a SenText Marketing Partner, created this contest with ideal success. They distinctly executed an exciting call to action and asked their audience to engage by texting in, posting a screenshot, and sharing. Fans freely commented and were truly excited.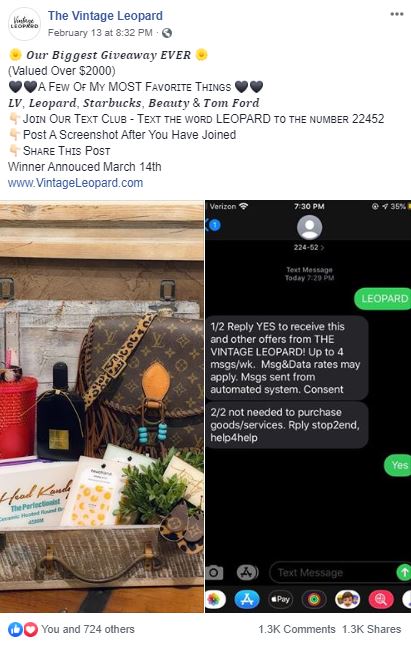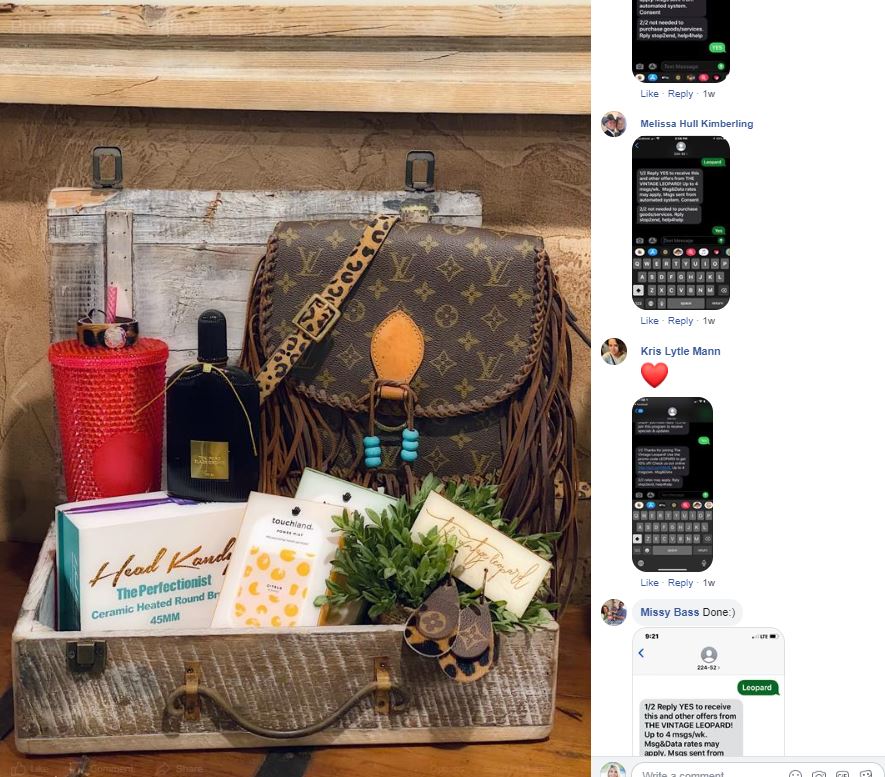 Reversely, they could share a post link to their Text Club audience, via SMS or MMS and get instant views on any social post by reaching 99% immediately prompting them to share instead of waiting and hoping people see their post.
Another great way to get people to join is by holding a Facebook Live event, announcing the text club throughout the event and gathering subscribers with LIVE incentives for engagement. Anyone who follows a facebook page is notified the page is going live to gather watchers.
Additionally, businesses can create a video as your Facebook cover image or video to help anyone suggested to your page see the offer. Pin this to thte top of the page and keep sharing each week to fill in your contet schedule. The more comments and reactions grow, the more reach you will receive (instead of just creating a new post each week).
You can follow these same examples with other social apps, depending on their limitations. By creating a mutual benefit for each platform, businesses can get a deeper penetration when sending out content, while better building their brand and promoting a stronger loyalty. When Facebook is not available as sometimes happens, they can still send out a text, as internet access is not required for receiving text messages.
With the previous examples offered, not only will you ultimately reach 10x more with SMS Marketing, you will get a 209% higher response rate. This can be directly tracked by the business with promo codes or redemptions in store by showing the text and recording on the local POS system.
Again, you will reach the 99% each time you send out the text messages, so even if it is just informational content, it is virtually a guaranteed "read" impression. This is basically not available with any other form of media at this time in 2020.
To learn more about how to get started with SenText, fill out the short form below.