Can you relate?
We have all felt the pain. What you once got, amazing reach on social media sites like Facebook or Instagram for free... You no longer get without cost, complication, frustration, and pure anxiety. Even the savviest of marketers have to learn complex formulas on the fly.  As a business owner in 2021, you don't have time for games. 
Whether you have a business or a group profile page, you just can't get the reach you need to grow on social media organically anymore. 
According to Tailwind, you don't even reach people who are not active in your group or page. There are plenty of ideas and tools to get better reach and attempt to beat algorithms. Boosting and ads take time and can be rejected due to vague "policies and guidelines". It can be days before anyone sees your organic post and it all depends on engagement or interest variations, which both don't easily translate anymore. 
So your choice is to keep spending the money, time, and effort on endless boosting with bad results, or make a decision to get great results faster with an easier and less expensive, alternative. 
Here is the best part: TEXT MARKETING HAS NO ALGORITHM. 
It is 100% spam-free and 99% instant reach with whatever message you want to send, within easy, reasonable guidelines. You can get the exact same message out that you would send on social, to your VIP Subscriber List in minutes. Pricing is flexible, based on need and audience.
Build your list quickly with your raving fans. They can scan a QR code or just text 2 words to join. Hence 100% permission-based.
SMS means Short Message Service.  Indeed, it is just that.
You can use Text Marketing for so much...
Sales Generation

Time-sensitive Promotional/Event Alerts

Facebook Live alerts

Weather Alerts

Sales/Marketing Communications

Hiring, Employee, HR and Company Communications

Instantly send links to LIVE streams for more reach 

Location updates

Loyalty and customer appreciation offers that generate sales

Links directly to online ordering, products, services, menus, delivery, and more
There are 2 types of text marketing most businesses or organizations use: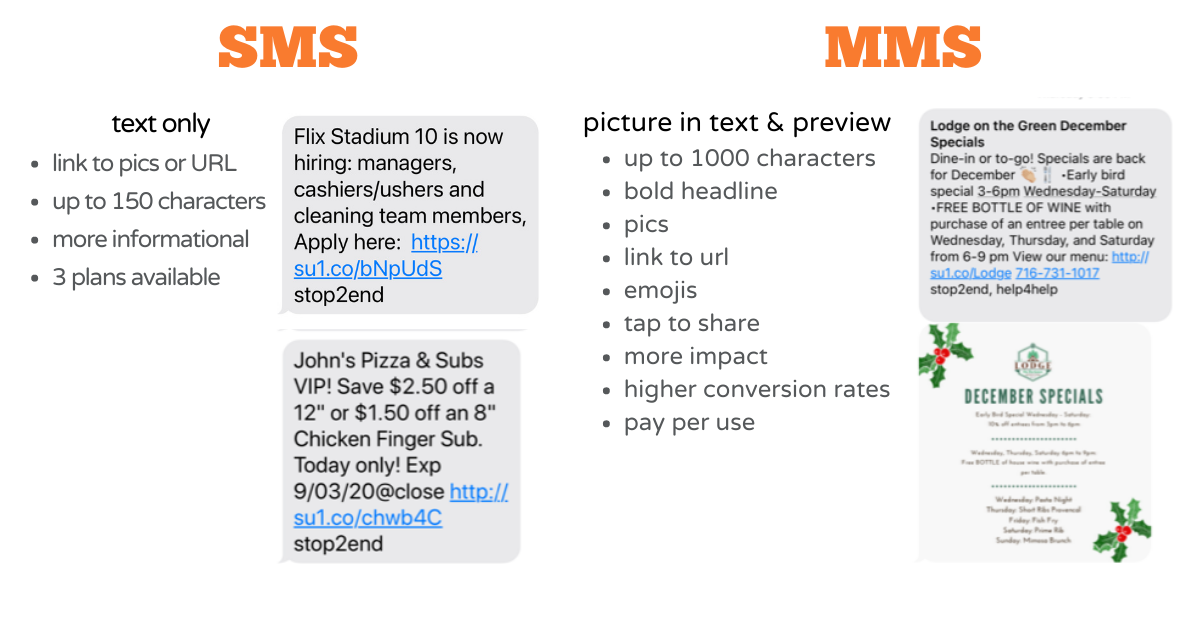 Are you finally ready to reach more customers faster, and to increase sales and visits sooner? 
Reach out to your local SenText Representative or get more info and pricing here: