One Trillion Dollars are expected in 2019 Holiday Sales.
Small Business can get their share with Text Marketing, if they start now.
---
Nowadays, shopping begins on a mobile device. 
---
This morning, the NBC's Today Show spotlighted ways to take advantage of mobile technology to find the best deals. The very first thing they mentioned was text alerts, and later mentioned a specific promotion from Best Buy, like "The 20 Days of Doorbusters".
Typically smaller businesses tend to focus only on social media, email and word of mouth, and they might be missing a massive opportunity. The fact is, those all have slower impact and less insant reach than text messaging. While those mediums are important, conversion rates are higher with Text Message Marketing . Think about it. If you look at your phone during the day, what do you look at first?
The good news is, SenText caters to the needs of smaller to medium businesses, online or brick and mortar. While there may be many companies that come up when you do a Google search for "Text Marketing", many options come up, SenText has the largest, if not only, local on-the-ground Mobile Marketing Consultants, along with corporate customer support to help you walk through the process. These local Mobile Marketing Consultants work, live and play in your area and understand your customer climate.
Buying from an online only SMS Reseller, you will have no solid roadmap to success. It's basically figure it out on your own.
Here is what a SenText Mobile Marketing Consultant does for you:
1. Meets with you and helps you create a call-to-action campaign to get your raving fanst to opt in from their monbile device. This is 100% permission based. Customers that are willing to give you their mobile numbers, are the hottest leads a business can ask for. Give them a good reason and they will sign up on the spot and will be thirsty for more VIP Alerts! Who doesn't want to be VIP?
2. They will show you how to promote your campaign via your website, google, social and in-store signage. As a business owner this should be the highest priority The more subscribers you get, the more repsonse you will get when you send follow up alerts and events.
3. They will personally train you and your staff on how to grow and maintain your database of subscribers. They will walk you through the easy to use platform you can send messages to your list on demand. It literally takes 2 minutes to send a text and 99% of your list will read it.
4. If your audience likes your offer, they will come in and show you the text to redeem like any other paper, mobile coupon, facebook or email offer.
SenText offers customized pricing based on your traffic, average ticket and projected volume. There are also rewards available for referring other businesses that are not matched by any other text marketing resellers .
Here is the icing on the cake. You can send MMS messages with pics links and emojis to get an even higher response rate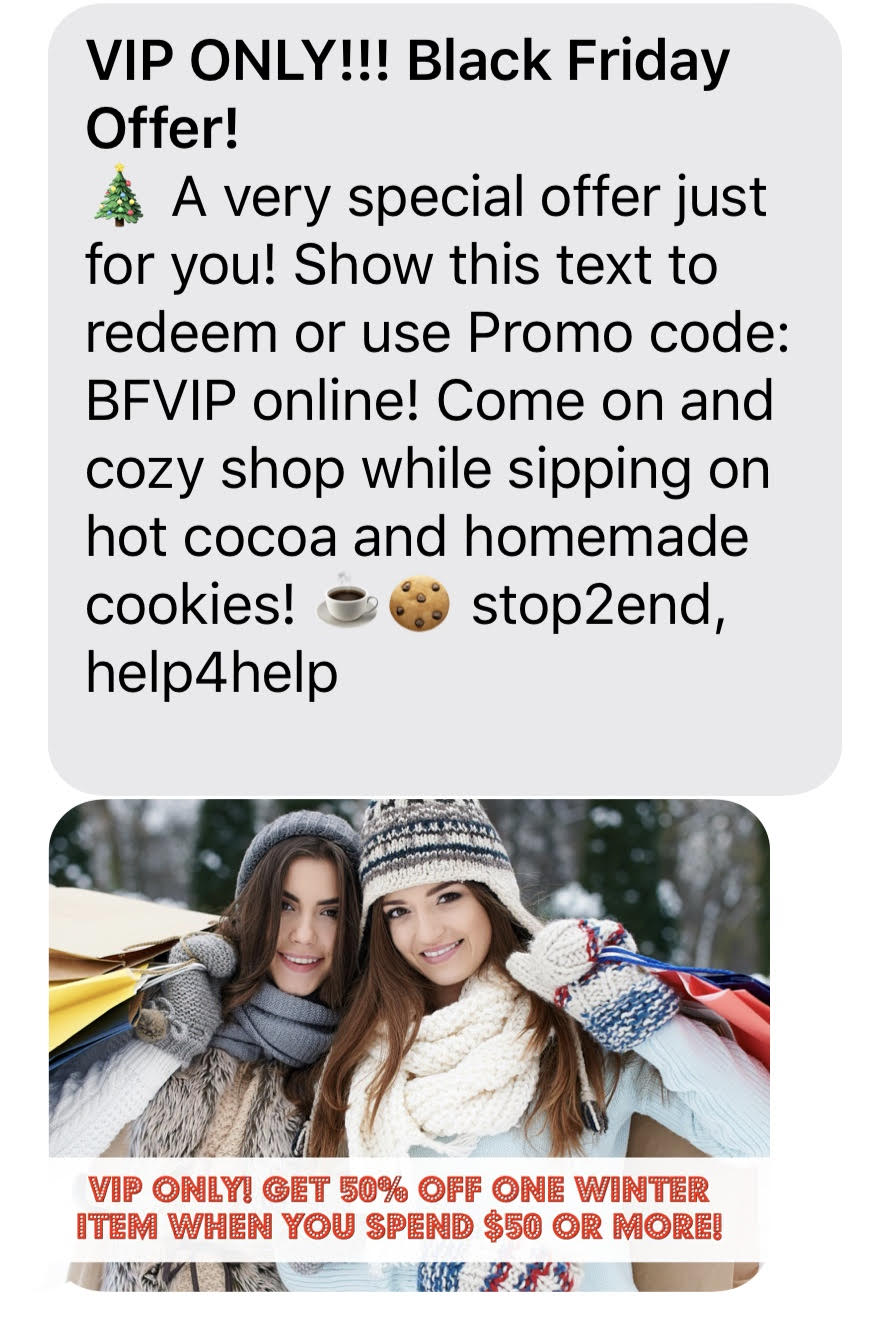 To summarize, it is easy for Small to Medium businesses to grow a healthy list within 6 months. Sometimes even faster- depending what your opt in offer is, and how well you promote it.  Every person who opens your email, sees your website, reads your facebook posts, looks you up on Google, or walks into your business, can text two words and be entered into your 100% TCPA Compliant database.
If you get 10% of your business to come back in one time from a text, this will more than pay for the monthly fee. This is a tremendous revenue builder and communication method.  The best way to compete with the Big Brands is to reach your customers first.
To get started today, contact the MMC who sent this to you or, if you found this article online,  click here to request a quote and get ideas on promotions.